Impressive Cabinets For Sale Near Middlebury Indiana
Affordable and high-quality cabinets for sale near Middlebury Indiana are hard to come by. Either you're paying an extremely high price for true custom cabinetry or you're paying too much for big box store cabinets that aren't worth the amount of money you're being charged. Where's the happy medium? 
Kountry Cabinets & Home Furnishings offers high-quality and affordable cabinetry for your home or business in Middlebury Indiana. Cabinets from our store look and function like custom cabinetry but without the custom cabinet price tag. Visit our store and see many cabinetry displays to help you choose the cabinet style and color that is perfect for you. 
See What The Inside Of Kountry Cabinets Looks Like!
Kountry Cabinets & Home Furnishings country store in downtown Nappanee Indiana boasts 30,000 square feet of possibilities. Those possibilities are just waiting for you to discover them! Cabinets, furniture, home decor, and more! If you're in Middlebury just grab some friends and come visit us.
Free Cabinet Design For Middlebury Indiana
Not only does Kountry Cabinets offer quality cabinets at a good price but we also offer completely free cabinet design services for all our customers. You can schedule your cabinet design meeting and take the lead in designing your cabinets. Our designers will guide you and help you get the most storage space out of the room you want to design your cabinets for. If you're in Middlebury Indiana or the surrounding areas like South Bend, Warsaw, Goshen, and Plymouth then you can take advantage of the free cabinet design, just schedule your appointment!
Kitchen Cabinets For Sale Near Middlebury 
The kitchen is one of the most important rooms in your home. It's where meals are cooked, stories are told, midnight conversations are had over pints of ice cream, and where memories are made. Not having kitchen cabinets that you love can make it hard to get the most out of your kitchen.
Kountry Cabinets specializes in designing kitchen cabinets that can revitalize this oh-so-important room in your home. Get the cabinets your Middlebury kitchen needs to make space for those memories. 
Living Room Cabinets For Sale Near Middlebury 
Kountry Cabinets offers cabinets for any room in your home, including your living room! We can help you design towering cabinets to house your books, movies, games, and TV. Your living room is a room for relaxing, it's a room for watching a movie after dinner with your family, it's a room to entertain friends and relatives when they visit. And if your living room isn't clean and organized it will be so much harder to enjoy those activities with your loved ones. Get the cabinets you need for your living room to turn it into a place where love can grow.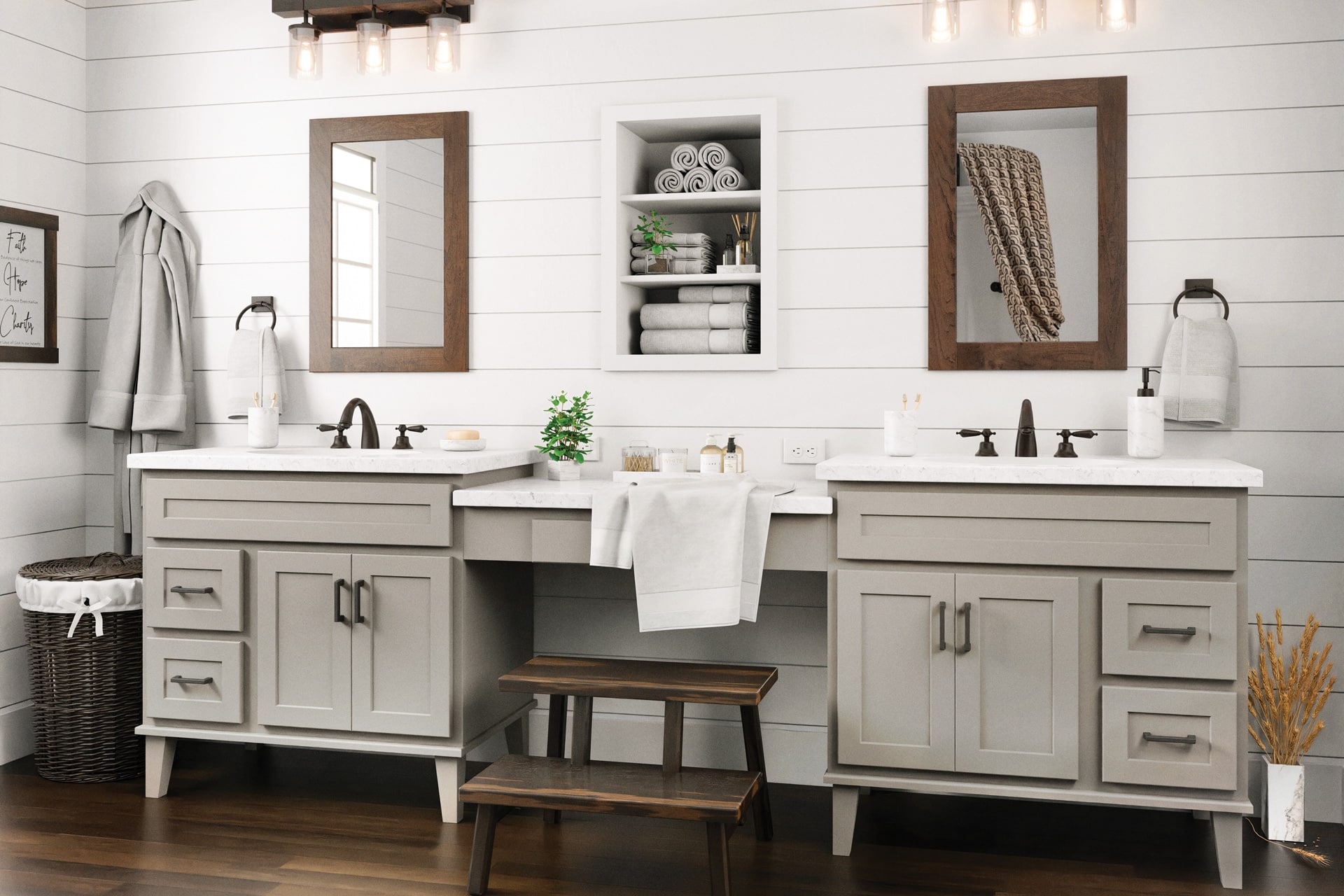 Bathroom Cabinets For Sale Near Middlebury
Do you need to refresh your bathroom? Maybe you want to update that half bathroom you have that you're always embarrassed about your guests using? Adding beautiful new medicine cabinets and vanity combinations could change everything! You can find the bathroom cabinet upgrade you've been dreaming about at Kountry Cabinets & Home Furnishings in Nappanee. We've been supplying homeowners just like you from Middlebury Indiana with bathroom cabinets for many years.
Directions to Kountry Cabinets From Middlebury Indiana
Kountry Cabinets & Home Furnishings
252 W Market St, Nappanee, IN 46550
Follow State Rte 19 N to IN-119 E in Union Township
7 min (4.6 mi)
At the traffic circle, take the 1st exit onto IN-119 E
8 min (7.0 mi)
Follow County Rd 17 and US-20 E to Wayne St in Middlebury Township
20 min (15.6 mi)
Follow Wayne St to W Warren St
3 min (1.4 mi)
Middlebury
Indiana 46540
More Than Just Cabinets For Sale Near Middlebury Indiana!
By now you were probably starting to think that Kountry Cabinets & Home Furnishings in Nappanee Indiana only offered quality cabinets at an affordable price! But we have a lot more than that in our 30,000 square foot store showroom. We wouldn't be able to have "home furnishings" in our name without offering some home furnishings! We actually have 2 floors in our downtown Nappanee store and they're full of not only cabinets but designer furniture from brands Alexvale and Flexsteel and interesting home decor.
Alexvale and Flexsteel Furniture For Middlebury
Kountry Cabinets proudly stands behind the quality of both Alexvale and Flexsteel furniture brands. We have seen the value in their products over the years and want to offer nothing but the best to our store visitors. If you live in or around Middlebury Indiana and you are looking for new furniture and a memorable shopping experience come to our store and find something special.
Outdoor Furniture At Kountry Cabinets Near Middlebury
Maybe you are already in love with the interior of your home? Maybe you have taken the time to choose all the right pieces of furniture and have upgraded the cabinets to exactly what you want them to be? And now you're turning your attention to the outside of your home. Do you love inviting friends and neighbors over for backyard cookouts? Do you want to have the perfect seating selections for them when they inevitably say yes to coming over? Kountry Cabinets has you covered with a large selection of outdoor living furniture at our store! Come see for yourself and find the solution to your outdoor furniture seating dilemma.
Amazing Home Decor For Your House In Middlebury
Are you looking for home decor? Maybe you need some new, exciting decorations for your apartment? You can find a huge selection of very unique home decor at Kountry Cabinets & Home Furnishings. We have a constantly rotating inventory so every time you visit you will find new things that you've never seen before. And once an item is gone, it's gone for good! You'll never find repeat home decor at Kountry Cabinets and that's half the fun. Plan your shopping trip to our store in Nappanee Indiana today.