Affordable Cabinets For Sale Near Elkhart Indiana
For more than 20 years Kountry Cabinets & Home Furnishings has been supplying affordable, high-quality cabinets to Elkhart Indiana, and the surrounding areas. Based in Nappanee, our store offers 30,000 square feet of showroom space where you can see full cabinet builds in person. Our in-house designers help you design the perfect cabinets to meet your needs. You can get the look and function of custom cabinetry without the custom cabinet price tag! Plan your visit today to enjoy our huge selection of cabinets, furniture, and unique home decor.
Virtual Tour Our Kountry Cabinets Store
Take a virtual tour of our store filled with 30,000 square feet of possibilities! You can pick out and design the cabinets you've been dreaming of with the help of one of our professional cabinet designers. If you've been searching for cabinets near Elkhart Indiana you need to visit our store. You can also shop our expansive selection of furniture and home decor when you visit.
American-made Cabinetry For Elkhart Homes
We only supply the best quality cabinetry for your home from Kountry Wood. Kountry Wood is a local, Nappanee cabinet manufacturer. Not only do they build cabinets here in Indiana but they also ethically source all their materials as well. Our Kountry Cabinets staff is dedicated to serving homeowners and contractors with American-made cabinets that are built with consideration for the environment and the community. Cabinets with heart for Elkhart Indiana, the City with a Heart.
Kitchen Cabinets Near Elkhart Indiana
Have you been longing for new kitchen cabinets to revitalize your kitchen? Kountry Cabinets can help you make your dreams a reality. Schedule a cabinet design meeting, visit our store, and see for yourself what all the possibilities could be! Choose from our many cabinet styles and add optional features that you want in your kitchen.
Bathroom Cabinets Near Elkhart Indiana
Are you ready to upgrade your bathroom cabinets? You can enjoy free cabinet design services at our store. With reasonably priced bathroom cabinetry and optional features, you can design cabinets for your bathroom that will help you relax and release the day's stress. Plan your visit to our store or schedule your cabinet design appointment, we can't wait to serve you.
Mudroom Cabinets Near Elkhart Indiana
Is your mudroom or laundry room a place of frustration in your home? Organizing all of the coats and shoes can be difficult and staying on top of endless loads of laundry can get discouraging. Having the right cabinets will solve those problems for you!
Imagine having the space you need to store your iron and laundry detergent and a surface to fold your family's clothing. Our cabinet designers can help you put together a plan for the laundry room or mudroom cabinets that will make those things a reality.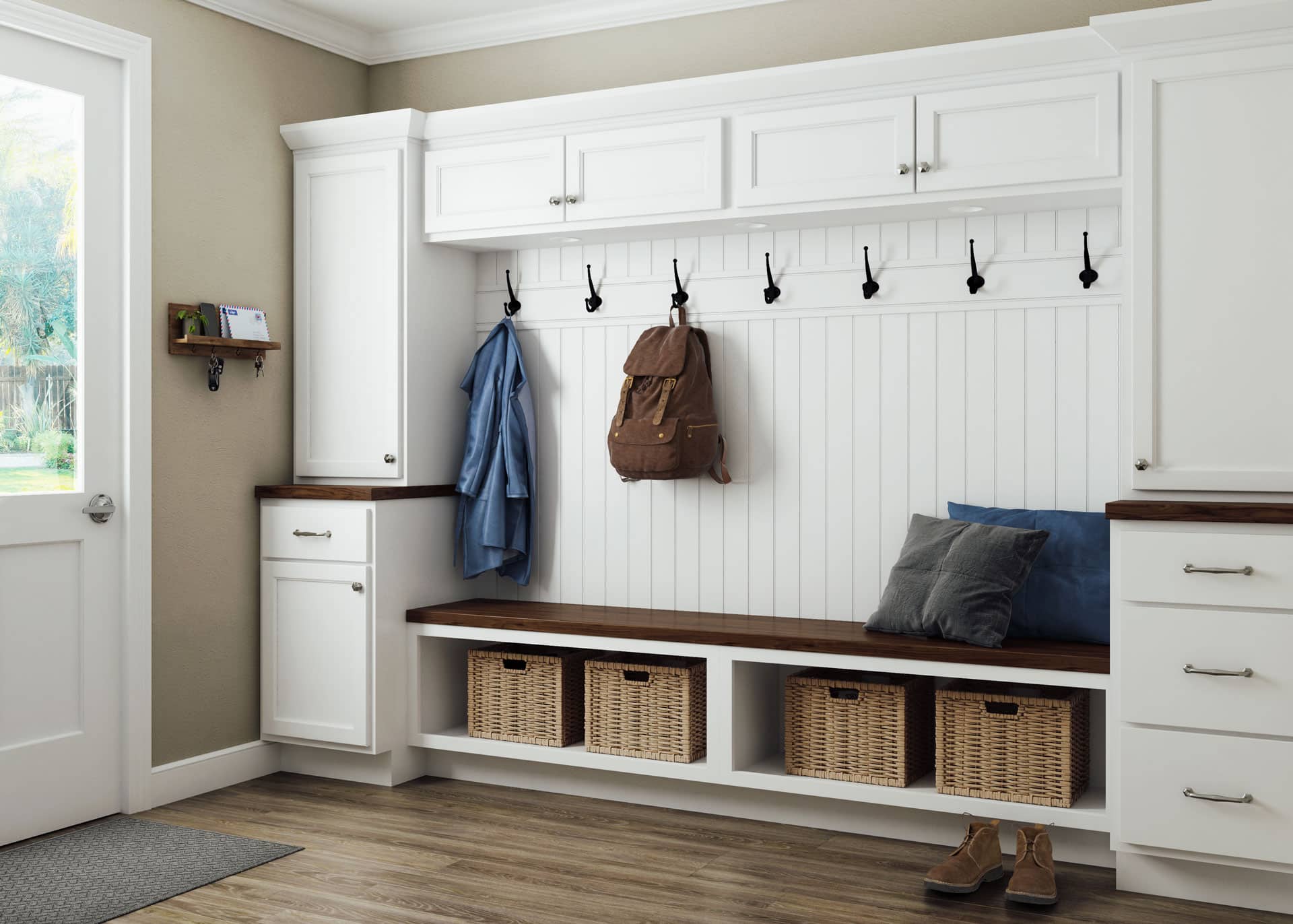 Unique RV And Home Decor Collections
Have you ever walked into a Target store or Wal-Mart and been discouraged by how repetitive their home decoration selections were? Or maybe you feel like the style of their offerings never changes? Well, we understand how that feels and make sure Kountry Cabinets & Home Furnishings isn't like that!
We offer an ever-changing collection of RV decor and home decor pieces for you to be surprised by on every visit. We only have what you see on the sales floor and once an item has found its home with a happy customer you won't find another one. The fun part about this rotating inventory is that you can always discover something new when you visit our store! And you may find something to bring home with you that none of your friends will have.
Directions From Elkhart Indiana To Kountry Cabinets
Ready to plan your visit to our store? If you're looking for cabinets near Elkhart Indiana then make sure you schedule a cabinet design before you come. If you're on a mission to find a perfectly unique and beautiful home or RV decoration or some of the finest hardwood furniture anywhere then just plan to visit us!
If you're coming to Nappanee from Elkhart then you could bring some friends with you and turn your store visit into a day trip exploring historic, downtown Nappanee, Indiana.